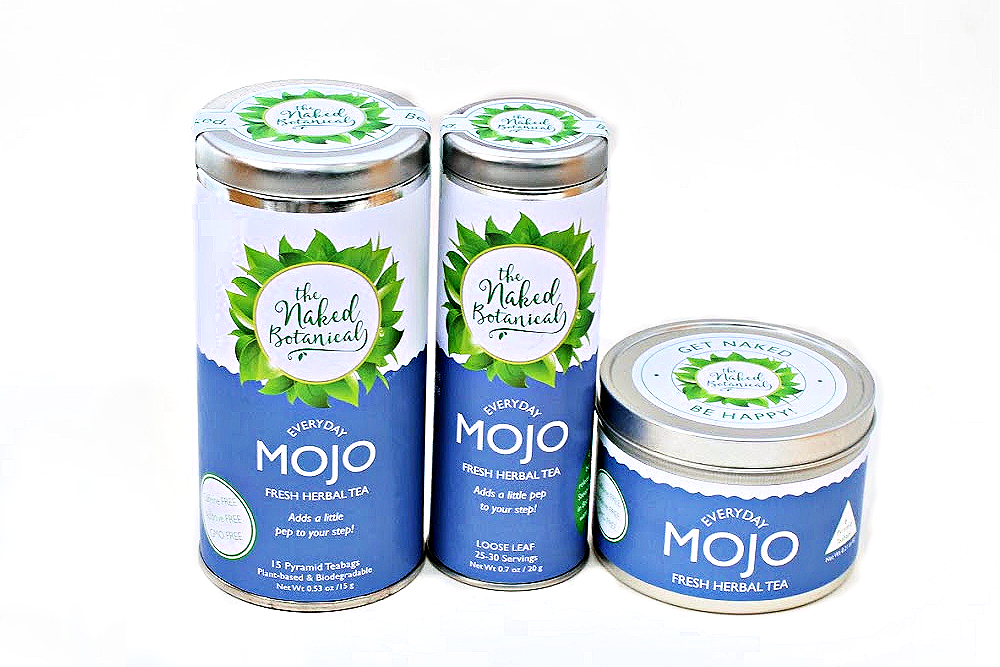 Everyday Mojo Herbal Tea
SKU 00005
Product Details
Everyday Mojo Tea Description
Everyone needs Every Day Mojo Tea. In fact, we don't know anyone who doesn't need some Mojo. Even Austin Powers needs Mojo.

So if Austin Powers were to drink our Every Day Mojo, he would say this is one groovy tea chock full of antioxidants to get him through the day.

We couldn't agree more. It's our little slice of pick-me-up under the sun.

(Ssh. It will be our little secret when you are dancing down the hallways of your home. Or your boss says "what got into you?" Or your hair turned out perfect that day. Just sayin'.)

Mojo is chalk full of amazing herbs to keep you pumped throughout the day. It contains organically grown and homegrown alfalfa, dandelion, echinacea, oregano, basil, holy basil, spearmint, and lemon verbena.

So What Does Mojo Taste Like?
Pretty darn magical. It has a basil and oregano taste that simply put, works. It is our number one seller because the basil and oregano give the tea a really unique taste when it combined with the other herbs.
It is more on the herbal side and not as robust in taste as Best Damn Mint, Happy Tummy, Happy Life or Feeling Groovy. However, if you are a regular tea drinker or use to a stronger tea, consider adding a black or green tea with Mojo.

Everyday Mojo Servings
We offer three different sizes:



Loose Leaf: Each loose leaf can have 25-30+ cups of tea and comes with a cotton tea bag. (Many people buy additional cotton bags so they can have a few around the house. No reason to cry over lost tea bags.)
Tea Bags: Each container has 15 tea bags. (We switched from Kraft bags to pyramid bags.)
Sampler tin: Each container contains 5 tea bags.
Our farm was recently certified organic. We are slowly transitioning our products to be certified organic; however we need to use up all our pre-certified herbs in the meantime. Please note, all of our sourcing partners were and are certified organic.

Our Policy About Adding Artificial or Natural Flavors
No can do.

We do not add artificial or natural ingredients to our teas. We let the herbs speak for themselves.

On the farm, our herbs run around naked…

But you knew that.

How to Brew Everyday Mojo Tea
Take one heaping teaspoon if you are using the loose tea (or more to your liking. We know some of you like your tea strong.) Add it to the reusable bag or your handy tea strainer. Either rub the bag with your hands like you are rubbing Aladdin's Genie's lamp or use a spoon to break up the herbs in a tea strainer. (We like our cartoons.)

If you are using a tea bag, rub the bag lightly.

The rub motion releases the essential oils in the herbs to give you a better cup of tea.

Then pour boiling water over the bag and let it steep for 10 minutes. If you forget about it, don't fret, the tea is good cold too. (We forget about our tea all the time, and so we are used to drinking it cold. We are busy keeping those nude herbs under control.)

You can use the tea bag more than once.

In the case of our reusable bag, use the herbs twice and then let the bag dry. It is not fun removing wet herbs from a wet bag. Once dry, remove the herbs and throw them in your food or smoothie. They still have benefits. Why not use them?

You can do the same thing with our tea bags. Just rip open the bag and toss into your food.

Most of the ingredients are organic AND harvested from the Naked Botanical farm. For the balance of our herbs, our preference is to source from local or regional US herb farms.

Don't Forget. Always Close That Lid!
We know. We sound like your mother.

As you know, we are pretty hyper about the quality of our herbs. (Sometimes to a fault.)

We want you to have the freshest cup to enjoy each time. So, please close up lid tightly to keep the air out.

Herbs like Superman have kryptonite. In this case, air, heat, and light are herbs' enemies. Sadly, they will rob you of the enjoyment of the fantastic taste of the herbs.

Our herbs thank you. They work hard to make your tea taste good. They fight bugs, yeast, mold and whatever fury Mother Nature throws at them and keep on being awesome.

Now get some Mojo!

Save this product for later